So Sona Skincare is all about
being true to your skin...
Endless amounts of experimentation with skincare led Sona to establish a brand that not only reflected her personal journey with psoriasis but also the creation of an all natural formula. Sona finally found her winning recipe, however she wanted to share this with others to help them feel confident and be true to their skin.
The beginning…
At an early age Sona did her fair bit of experimentation with both highstreet and luxury brands that were aimed at helping her psoriasis, however these brands were formulated with chemical ingredients; doing more harm than good.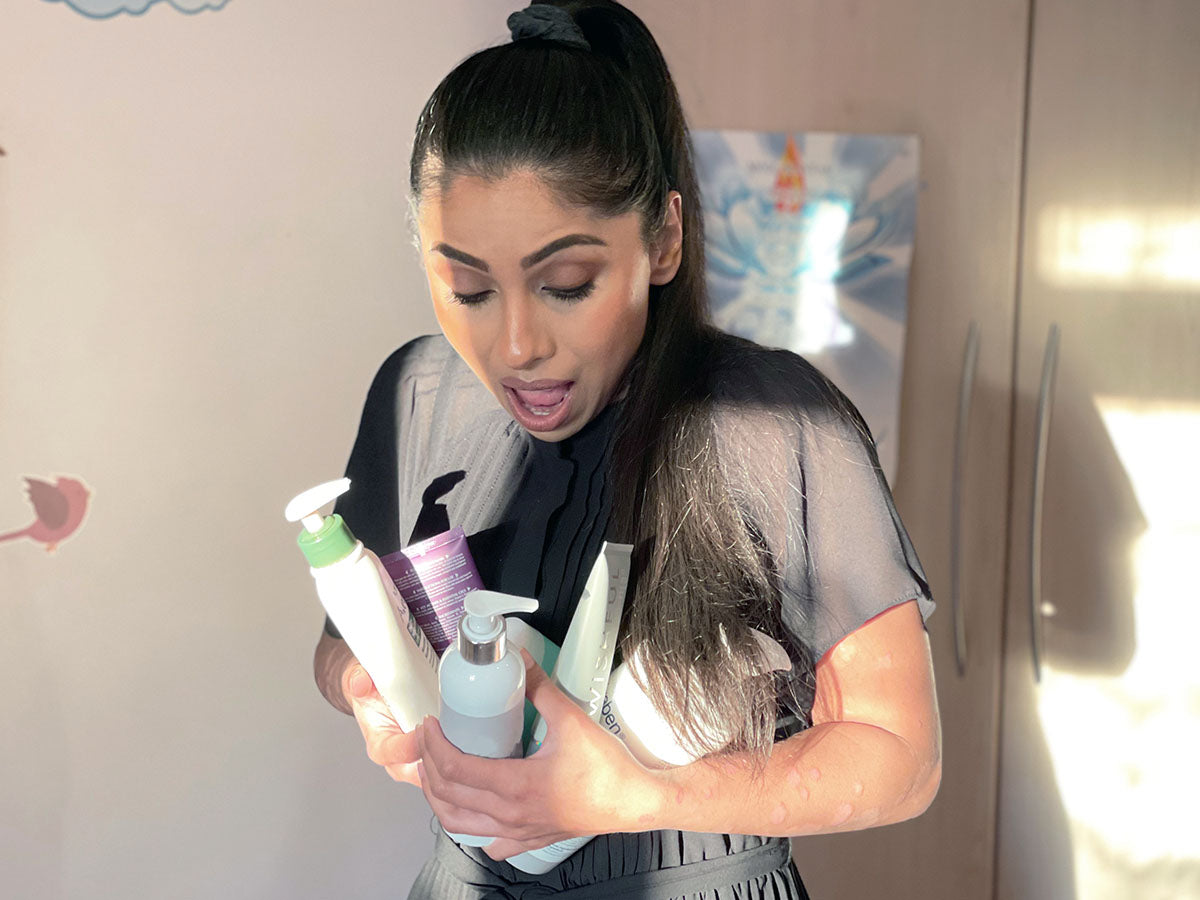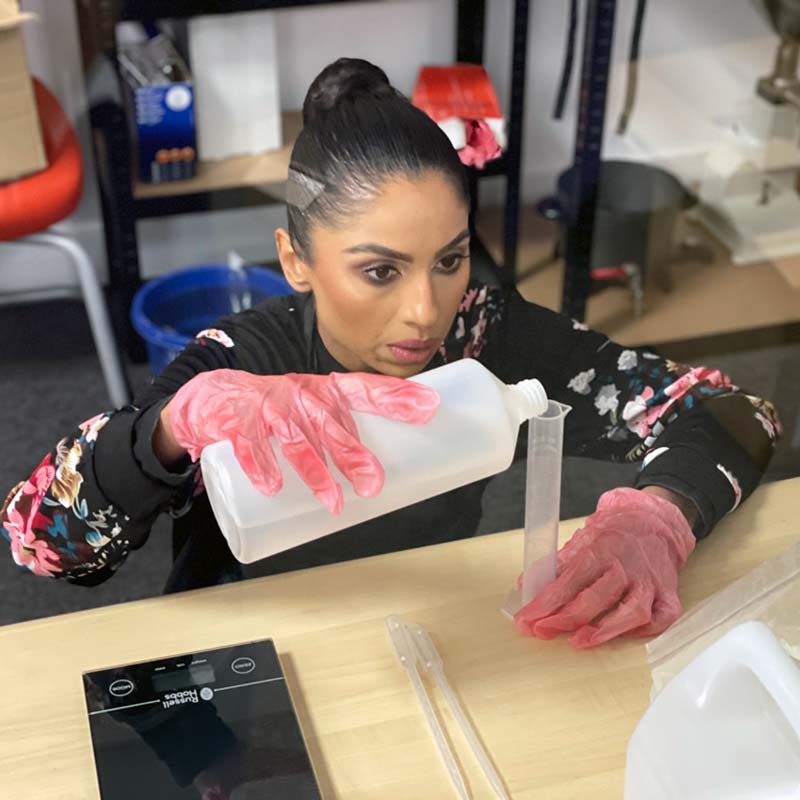 It all started with a conversation…
In the back of her mind Sona always wanted to create her own brand however, she never quite knew how to go about this and where to start. She knew tackling psoriasis was her main aim as it was a topic that lacked awareness.
It all started with a conversation with her husband. They discussed the different ways in which Sona could create a brand that could help her psoriasis and then later help others facing the same skin concerns. This motivation pushed Sona to research all natural ingredients, whilst spending late nights creating batches of butter and finding ways to improve the brand and formula.
Now here we are…
After long hours of research, experimenting and formulating, Sona finally made an all natural product that has helped herself and others with psoriasis alongside other skincare issues. 
Not only has Sona created a platform for others to speak about their skincare concerns but she created more awareness of the topic from social media discussions to being on a podcast show.
Now here we are...a creamy, whipped formula piped in a frosty jar and carefully placed in a soft, patterned, So Sona package - ready for you.


Let customers speak for us
Best body butter ever!!!!
I have been suffering from psoriasis a very long time not as long as Sona, but since using Evergreen soap& body butter my skin has calmed down so much even in this hot weather my psoriasis usually flares up this time it hasn't, the itchiness has stoped which is marvellous 🤩 and no more scratching or bleeding my skin. I have been using what doctors have recommended, including demonologist creams, none worked for me this is the [BEST EVER NATURAL PRODUCT THAT ACTUALLY WORKING FOR ME. I have already purchased more for my Family member who also suffering of psoriasis!! I hope this product continues and maybe 1 day soap ingredients into shower cream to use.
Evergreen Whipped Body Butter
Really lovely body butters. Fantastic that you do a sample pack so people can try then and see which one they prefer.
Body Butter Sample Pack
Brilliant soap can smell all the oils in the soap doesn't dry my skin got used to the ingredients. Soap does help with psoriasis, does calm the skin down doesn't itch as much as before.
Evergreen Exfoliating Soap Bar
Golden hour whipped body butter
Beautifully packaged, great soft consistency, smells amazing and extremely moisturising on my skin. Love it 😊
Golden Hour Whipped Body Butter
Golden Hour Soap Bar Review
The Golden Hour soap bar is great. It feels smooth against my skin when I shower and my psoriasis is slowly fading away. Thanks
Golden Hour Exfoliating Soap Bar
Spa experience
I adore the soap it makes my skin soft, smooth and hydrated which is a huge challenge with psoriasis.
The smell is divine, each shower feels like a spa experience I've ordered 4 bars so far because I love it
Golden Hour Exfoliating Soap Bar
Good for my skin
I have a really dry skin especially during winter. I bought these a few weeks ago and it helped my skin alot! I am in love with the smells too. Will get the big tub soon!
Body Butter Sample Pack
Perfect
This cream has changed my daughters life… she has super bad eczema in her elbow creases and has been suffering with it for 18month, when i saw the sosona range… i bought the try pack and then, we decided Dusk… her creases are like new! Its amazing!!!
Dusk Whipped Body Butter
Definitely like it
Very happy with skin and quility.
Body Butter Sample Pack
Exactly what I was looking for
These body butters are exactly what I have been looking for, for YEARS. They are all-natural, smell amazing, versatile, well packaged…in the winter months my skin becomes more dry and I have tried so many sensitive skin or natural brands, but these products are legitimately natural and you can tell from the feel on the skin and natural scents, which last on the skin. I can't wait to buy more items from this brand.
Body Butter Sample Pack
Beautiful products
This product smells amazing and feels great on the skin. I was looking for something natural to moisturise with and this is exactly what I was looking for. No chemicals, not overly processed, natural and great for dry skin. If you are undecided, definitely get this!!!!
Blossom Whipped Shea Body Butter
Wonderful product
I really love this butter. It's like a food skin cream, I like how hydrated and glowy is my body after I use it.
Golden Hour Whipped Body Butter
Great for damaged hair
I've been using this oil to help repair my damaged hair and it's been amazing. It's helped make my hair stronger and shinier, and it's also helped with my split ends. I love that it's all natural and doesn't contain any synthetic ingredients.
Roots Hair & Scalp Oil
My Miracle Oil
Ive been using this scalp oil for 2 weeks now and I notice how my dry and itchy scalp has improved. You're a life saver Sona. ❤️
Roots Hair & Scalp Oil
I wanted to trial these creams to see which one I preferred, I have to say I've noticed differences already. The white one and yellow one being my fav!
Body Butter Sample Pack